The NH Roads Scholar Program establishes educational training requirements for municipal level highway practitioners, and recognizes those who have successfully completed specified  UNH T2 Center workshops.
2023 NH Roads Scholar Directory
About the NH Roads Scholar Program
As of April 1, 2015, there are six levels in the NH Roads Scholar Program, plus the Safety Champion award and Road Safety Advocate program. Each level has a defined number of contact hours, and additionally NH Roads Scholar II requires attendance at workshops in specific subject areas. A contact hour is an hour of actual instruction. Therefore, a typical one day workshop includes 5 hours of instruction, and a specific subject area to ensure that training covers a range of subjects essential to local road management. Please take a look at our training calendar for the current schedule.
NH Roads Scholar Press Kit
We've gathered example press releases and editable templates to help you create visuals & announcements recognizing your team's NH Roads Scholar champions in your organization and community. Need assistance or have another idea? Contact us!
Electives
Up to 10 hours of Elective courses (training that has taken place outside of T2's workshops, yet would be something of similar topic or subject areas) may be applied to an individual's total NH Roads Scholar hours. For outside training hours to be considered, please provide a copy of the certificate from the outside training along with the number of hours spent in that training to the UNH T2 Center staff.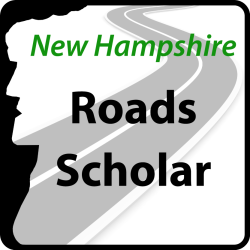 Levels:
NH Roads Scholar I - 25 Contact Hours
NH Roads Scholar II - 50 contact hours
Minimum required hours by category of training topic to achieve Roads Scholar II:
5 hours of Environmental
10 hours of Safety
5 hours of Supervisory
20 hours of Technical
10 additional or elective hours (note electives do not count towards the other categories for RS II)
NH Senior Roads Scholar - 75 contact hours
NH Master Roads Scholar - 100 contact hours
NH Master Roads Scholar II - 150 contact hours and Safety Champion
Safety Champion - 20 contact hours of courses under Safety category
This is a side award given once a recipient achieves 20 Safety hours, regardless of what Level the recipient is in within the Program. Safety Champion award is a requirement for the Master Roads Scholar II Level.
Road Safety Advocate – Complete seven modules and the development of a Local Road Safety Plan
Learn more here
NH Advanced Master Roads Scholar - 200 contact hours and Capstone project
NH Advanced Master Roads Scholar Traditional Capstone project: Along with earning the minimum required 200 NH Road Scholar hours, the objective of earning this prestigious level of achievement is to participate in, and help improve, the working lives of your colleagues and the public works community. Your passion for this field is evident by your commitment to professional growth and development.
Submit a request of intent to the LTAP Advisory Board for acknowledgement and guidance in order to begin your journey to the Advanced Master Roads Scholar level,
Upon receipt, a member of the Advisory Board will contact you to discuss and support you through the process of determining a project, based on a variety of factors, that will meet the goals of the award level and that will offer the best opportunity for success.*
Whether you wish to instruct, mentor, develop outreach programs, inspire teenagers in this field, bring innovations to your community and others, or partner with UNH T2 on one of their many projects, the NH Advanced Master Roads Scholar program encourages you to find a meaningful and supportive way to utilize your expertise and wealth of knowledge to help others in the PW community reach greater levels of professional development and proficiency.
*Select from our ideas list, or you may present your own idea or concept that fits this description at the time of making your intent known.
NH Advanced Master Roads Scholar Points Based Capstone project: After completing  at least 185 credit hours with UNH T2, begin receiving points for participation in activities that relate to public works.  Accrue at least 100 points total, in addition to 200 credit hours of UNH T2 training, to achieve Advanced Master Roads Scholar.
View the list of approved activities to start earning points towards your Advanced Master Roads Scholar.